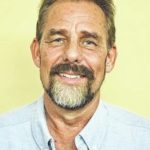 Landlords working together
Years ago, I started a journey in hope of financial stability when I reached retirement age. I purchased my first house when I was but 20 years of age...
---
Teaching fellows program is back…in Indiana?
State lawmakers have finally taken a bold step toward addressing the looming teacher shortage in public schools. The Republican supermajorities in the...
---
Helping you in any way we can
Over the last two years, I've had the honor of representing Anson and Richmond Counties and the state of North Carolina in the United States Sen...
---
Do facts determine your views?
I have strong opinions. You probably do, too. Most people have deeply felt convictions about at least some matters of public controversy. Given the ri...
---
'Turned out OK' shouldn't be a goal
We've all made poor decisions that somehow "turned out okay." We've all been subjected to unfair conditions or ridiculous expe...
---
I think I've changed my mind on karaoke
My first experience with karaoke wasn't a pleasant one.I was sitting in a hotel lobby in Dillard, Georgia, using the complimentary computer when...
---
Feeling sorrow's touch
You can run from sorrow, but sorrow will find you.I ran and have been running all of my life. Sorrow has caught me several times. The feeling of being...
---
GOP continues effort to suppress voters
An extraordinary thing happened three weeks ago when the U.S. Court of Appeals for the 4th Circuit threw out most of the massive voter suppression law...
---
Left misleads on the Carolina Comeback
RALEIGH — Democrats and liberal commentators have been loudly and gleefully attacking Donald Trump and his aides for getting their chronologies ...
---
Paving the way for cures
You may have heard about Olympic athlete and North Carolinian Kathleen Baker earlier this week as she won the silver medal in the 100-meter backstroke...
---