TAR HEEL VIEW: Can schools be better? It's up to each of us
As a new school year begins, we are asking ourselves and all residents of Southeastern N.C. — what can each of us do to ensure that all students...
---
LETTER: Hillary lied and will get away with it
To the editor:I thought we the people (were) smart, but now I think we are the stupid(est) people in the world.Look at Hillary, she was secretary and ...
---
LETTER: Kaepernick is 'definition of American bravery'
To the editor:When I heard Colin Kaepernick say the following words at the end of an interview, my heart was filled with pride… but as we all kn...
---
Frederick Douglass, tax rebel
Federick Douglass (1818-1895) is an American hero, a man born a slave who sought and achieved his own freedom — and lived to tell the story in w...
---
OUR VIEW: Whatever happened to 'the pursuit of happiness?'
Life, liberty and the pursuit of happiness.An oft-repeated mantra that underlies the spirit of American culture, listed as just three of the inalienab...
---
Faculty really does lack diversity
Election season may not be the best time to go looking for sober reflection or respectful dialogue. For example, consider what happened recently when ...
---
Tar Heel book suggestions for Trump, Clinton
Could reading a few North Carolina connected books help Donald Trump and Hillary Clinton be better candidates, campaigners, and debaters during the ne...
---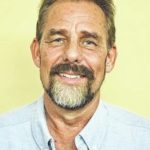 Landlords working together
Years ago, I started a journey in hope of financial stability when I reached retirement age. I purchased my first house when I was but 20 years of age...
---
LETTER: Self-defense instructor a guardian angel
To the editor:Do you believe in angels? I used to as a child, but because of the harsh realities of adult life, I, as many, have turned away from the ...
---
OUR VIEW: Keep the county clean to get more of what you want
If you want something better, you should take care of what you already have.It's a lesson some kids are taught when it comes to their toys. If t...
---