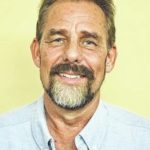 Landlords working together
Years ago, I started a journey in hope of financial stability when I reached retirement age. I purchased my first house when I was but 20 years of age...
---
LETTER: Self-defense instructor a guardian angel
To the editor:Do you believe in angels? I used to as a child, but because of the harsh realities of adult life, I, as many, have turned away from the ...
---
OUR VIEW: Keep the county clean to get more of what you want
If you want something better, you should take care of what you already have.It's a lesson some kids are taught when it comes to their toys. If t...
---
LETTER: Wall Street loves the Clintons
To the editor:The primary cause of the 1930s' Great Depression was speculation by commercial banks in the stock market. The depression was prolo...
---
LETTER: Memories of Rockingham Grammar School
To the editor:I have had several people ask me about Rockingham Grammar School. They wanted to know where it was located and the type of building.Rock...
---
Teaching fellows program is back…in Indiana?
State lawmakers have finally taken a bold step toward addressing the looming teacher shortage in public schools. The Republican supermajorities in the...
---
Helping you in any way we can
Over the last two years, I've had the honor of representing Anson and Richmond Counties and the state of North Carolina in the United States Sen...
---
Do facts determine your views?
I have strong opinions. You probably do, too. Most people have deeply felt convictions about at least some matters of public controversy. Given the ri...
---
LETTER: Softball field renovations will have fiscal impact
To the editor:It is with a joyful heart that we see the renovations being addressed at the East Rockingham softball fields. The county has heard, and ...
---
LETTER: Assault rifles have no place in daily lives
To the editor:The AR-15 is a WMD, weapon of mass destruction. It has killed innocent elementary school children and faculty at Newtown, innocent movie...
---